HUNTING BLINDS
Spend more time "out there."
Our premium hunting blinds provide the ultimate in concealment, comfort, and durability.  Hunting blinds are in stock and ready to ship.  Now you can customize and order your premium Ambush Hunting Blind online.

Do you feel as though something is watching you? Do you feel like you can't stay hidden during a hunt? Ambush hunting blinds are the answer! Reduce detection while shielding yourself from mother nature's ever-changing weather.
At Ambush, we are here to make sure you stay hidden, stay comfortable and are 100% satisfied.
Make Your Moments Count
There is nothing more aggravating to a hunter than being spotted. When a target discovers you, whether by smell or movement, it disappears in a flash. Ambush Hunting Blinds keep you hidden throughout the hunt using several top-of-the-line features.  Using a hunting blind increases your overall chances of staying hidden in the woods.  This is especially true if you are hunting with young children. When it comes to hunting blinds, you want the design to focus on silence, warmth, and scent-proofing.
A Roomy and Quiet Hunting Blind
So what's the big deal?  Sure, just about everyone can make a box or a tent that you can hide in when you are hunting.  But at Ambush we do it a bit better.  Our hunting blinds feature a complete fiberglass exterior and EPS Styrofoam insulation for maximum sound control.  Ambush delivers models ranging in size from 5'x5' to 6'x6'.  And at nearly 7 feet tall, there is plenty of room to stand up as needed!  Blind setup is quick and easy and completely customizable with a selection of optional hunting blind accessories like light kits, solar charging kits, and bow hooks.
Protection from the Elements
Ambush Blinds will keep you dry on a wet, rainy day and be protected from the harsh outdoor elements such as wind, snow, and rain. With a family hunting blind built to suit the needs of everyone in your crew, you will be able to relax in comfort and enjoy the nature surrounding you. Bottom line, you'll enjoy staying out in the woods long after your buddies have gone back to camp!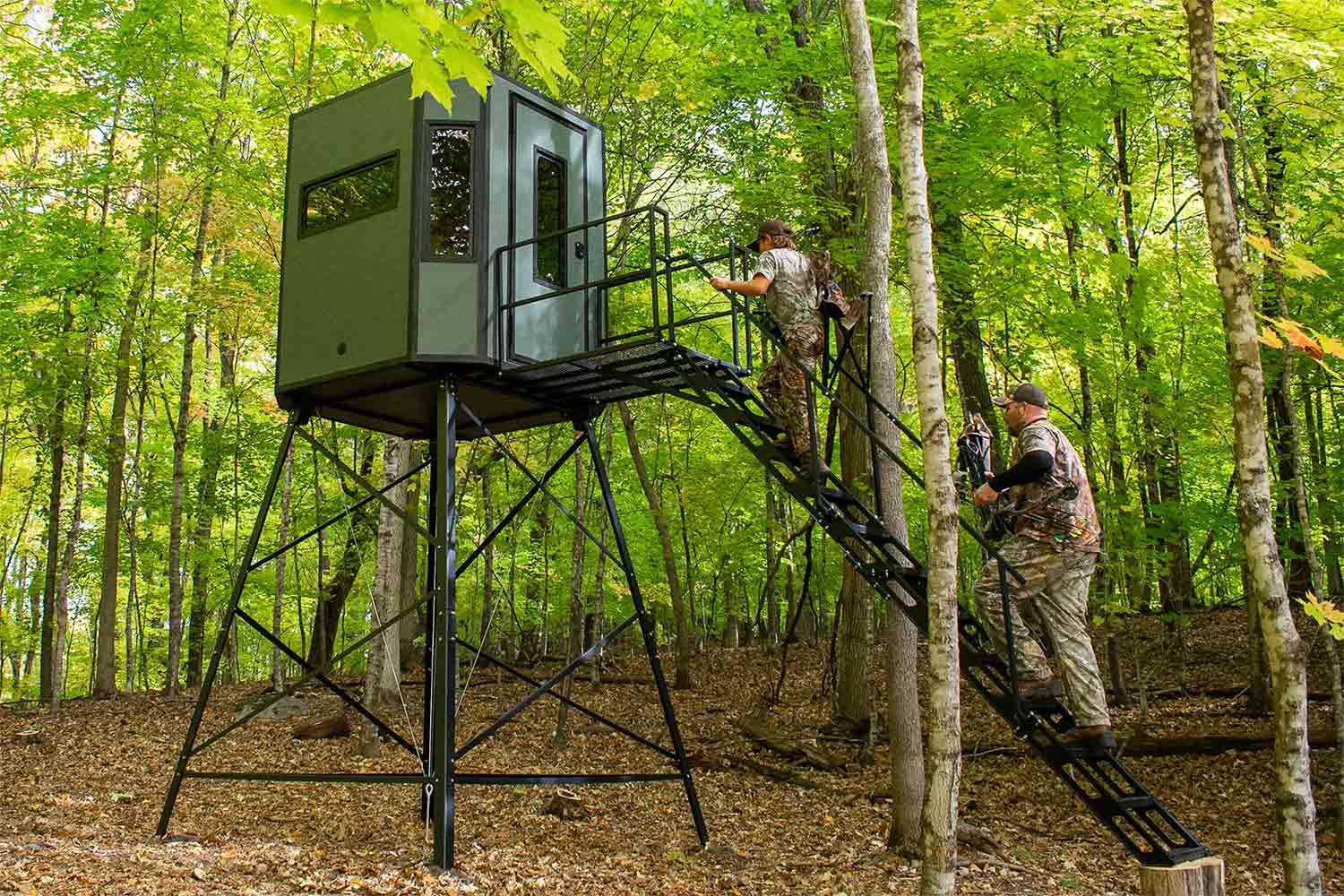 We've Got Your Back
It's true that we build an exceptional hunting blind.  However, simply building a product doesn't hold much weight unless you are willing to stand behind it.  And that's exactly what we do.  We make our Blinds in the USA and our design team just gets it. We strive to provide high-quality hunting blinds that will last a lifetime.  We're so confident that our hunting blinds are some of the best on the market today, that we back them up with an industry-leading 5-year warranty.   
The bottom line?  At Ambush, we don't cut any corners and we don't compromise on quality.  We build every hunting blind to last a lifetime, outperform the competition, and back it up with an industry-leading warranty.  If you can find a better hunting blind on the planet, make sure you let us know.  If you are ready to be a part of the Ambush family or you have questions, contact us directly or talk to one of our authorized dealers.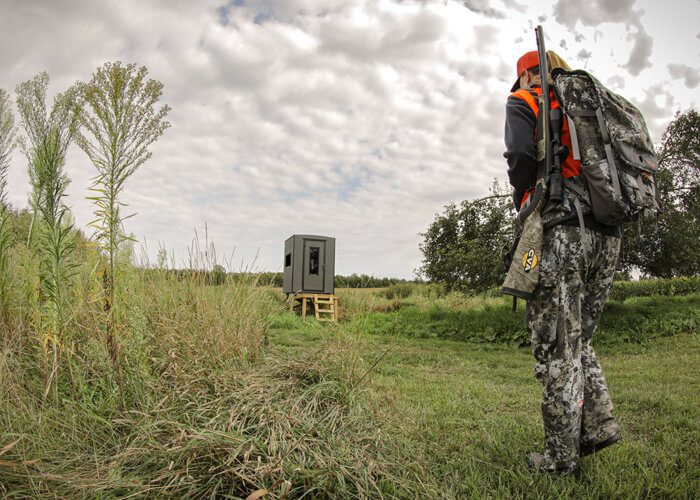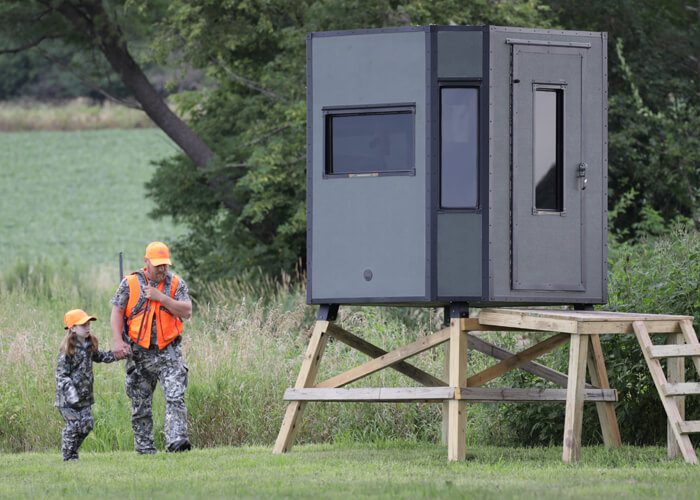 The Stalker is the core blind that started it all for Ambush Blinds.  The octagon-shaped hunting blind features a unique window configuration that provides multiple shot angles with either your rifle, crossbow, or bow.  The Stalker is a fully insulated, strong, and scent-containing blind that features tinted windows ensuring optimal concealment.  Stalker Hunting Blinds are 6'x6′ with four leg brackets included that will accommodate four by four posts to add elevation.