10 Things to Consider when Picking a New Hunting Blind
There are a lot of factors to consider when it comes to picking a new hunting blind! Deciding which hunting blind is best for you can be a daunting task between different types of hunting blinds, size, appearance, safety, and species. To help you decide on your next hunting blinds, we've compiled a list of top things to consider before purchasing your next hunting blind.
Type of Blind
Deciding on what type of blind you want is the first place you should begin to narrow your choices of hunting blinds down. Ground blinds, tree stand blinds, and pop-up blinds all have their pros and cons.  Pop-up blinds work if you are hunting on public land but provide little in the way of noise suppression or protection from the elements.  However, if you have the land, space, and capability of using a hard-sided hunting blind, an Ambush Hunting Blind is definitely the way to go.
Ground blinds and pop-up blinds are perfect for those times when you have the land and space, but no good tree to use for a tree stand, as you can use them almost anywhere you'd like. Tree stands are great to get you above your prey's eye level, and because of this, can continue to be used well after the leaves fall in autumn. Ambush hunting blinds can be used as either ground blinds, OR with the use of our elevation kit, can quickly be turned into a comfortable elevated blind, combining the best of both worlds. You can build your own elevation blind or buy our elevation kit.
Comfort Level
Comfort is a huge factor when looking at hunting blinds. The more comfortable you are, the longer you can hunt and the less distracted you are. Ambush Hunting Blinds keep you warm and dry and out of the elements, which is extra helpful when the weather is nasty.
Size
When it comes to the size of hunting blinds, size matters. Picking the size of your next hunting blind depends on several factors. You will need a larger blind if you are hunting with multiple people, rather than just yourself. Ambush offers two different sizes to accommodate different party sizes – the Phantom series hunting blind (5X5) and the Stalker series hunting blind (6X6).
Placement/Location

The placement and location of your blind is a key thing to consider when it comes to purchasing a blind. The size and kind of blind you choose will affect where you can set it up.  Before you get your hunting blind, take a look at the surroundings and make sure you can have clear shooting lanes.  If possible, make sure you have an unobstructed view on all sides and there are no blind spots.  Also take into consideration the background.  Blending in is important and you want to make sure your blind isn't a bright shiny beacon that screams "look at me."
Species hunted
The species you are hunting will also affect the kind of blind you want to use. Deer and Turkey are easily spooked and any changes in their environment can make them uneasy. Because they're more observant, brushing in your ground blind is very important. On the same note, Turkeys rarely notice ground blinds, making ambush blinds another great option for both small and large game. Before you go turkey hunting, make sure you check out our guide to turkey hunting!
Group or Solo?
The number of people you hunt with will affect the size of your blind. Elevated stands can be a great option, especially when hunting with children, as they're more comfortable and our Ultra Stealth interior with coin rubber flooring creates a sound barrier that is unequaled in the hunting blind industry.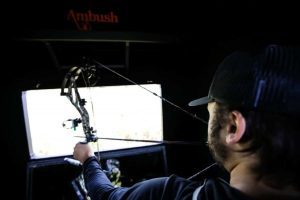 Weapon Type
You should also consider your weapon type when researching hunting blinds. If you are hunting with a recurve or compound bow, you will need a larger blind if you want to be able to stand while shooting, versus if you are alone with a rifle. On the other hand, the smaller the blind, the easier it is to conceal.
Window type
Windows play an important role in your deer hunting blind.  It all depends on the weapon type you plan to use. Hunters should consider the window type when researching hunting blinds. You will need taller windows if you are bow hunting vs. hunting with a gun. Ambush Hunting Blinds use silent window hinges and real glass. The value of silent hinges and real glass becomes very apparent as a hunting blind ages. Silent hinges remain quiet because they do not rust and glass does not fog, which is common with aged plexiglass.
Insulation
Insulation is important when it comes to deer hunting blinds, as it can affect many different factors of your hunt. Not only does a nicely insulated blind keep hunters warm, but it should also silence any noise made within the blind, contain your scent, as well as fully conceal you and any light that can reflect or reveal what's inside. Ambush blind's come with a commercial-grade black fabric that completely covers the blind's interior, with a five-layer Durabond Panel System™ throughout the walls of the blind.
Accessories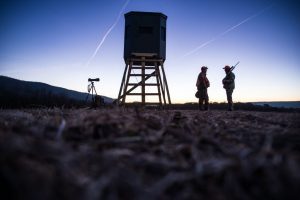 So you've decided on a hard-sided hunting blind… what's next? Adding accessories can really make a difference in the comfort level of a blind. Solar kits allow you to add lights and other power options to your blind. If you are bow hunting, a bow hanger allows you to have your bow out of the way while you keep watch. Ambush offers an array of hunting blind accessories to make sure you're ready for your next hunt!