Ambush Blinds
STALKER PREMIUM HUNTING BLIND
MSRP: $3,495
The Stalker's octagon shape, with 8 total windows, provides 360-degree shot opportunities with either rifle, shotgun, crossbow, or bow. Because of the Stalker's size, it can accommodate more than one hunter - perfect for children or grandchildren. The Stalker is equipped with four leg brackets that accept 4X4s if you choose to build your own blind elevation stand. The leg brackets are also designed for our 5' or 10' powder-coated steel blind stands. Packed with features, our flagship hunting blind has it all!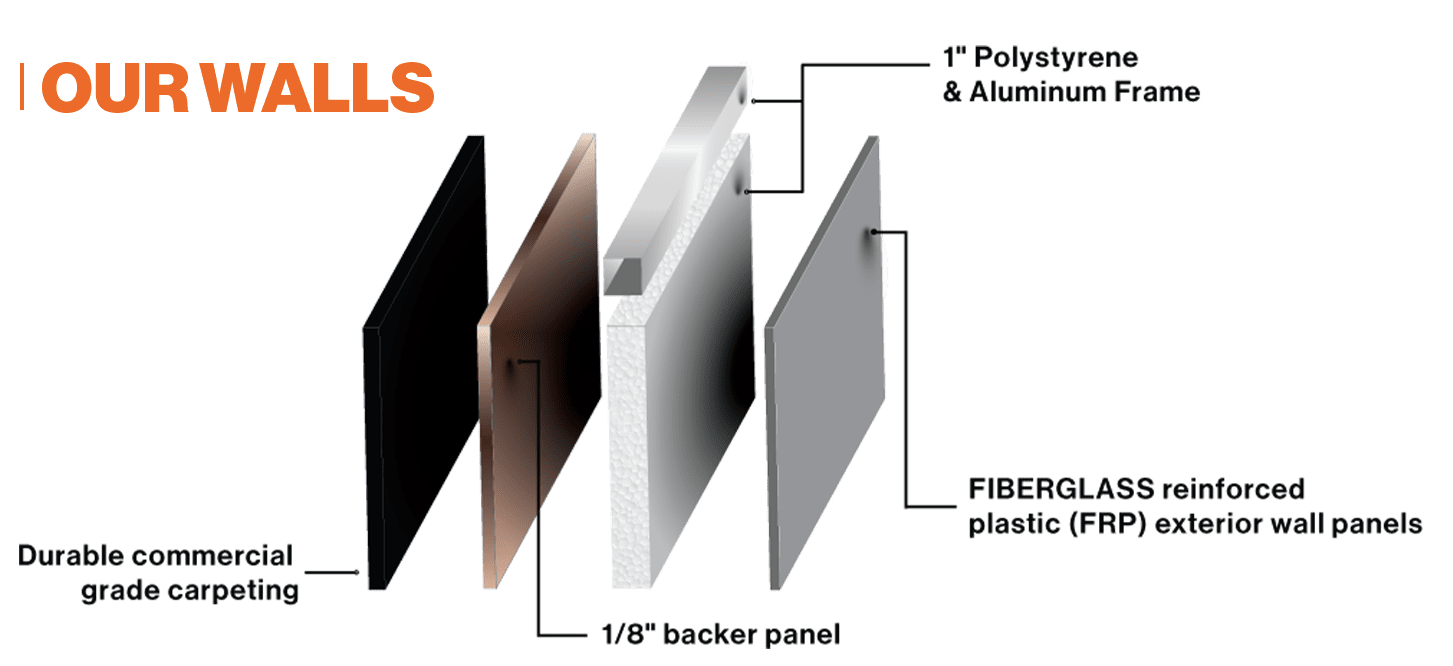 Insulation
When insulating our hunting blinds, we choose to use EPS styrofoam insulation. This type of insulation, paired with our lamination system, allows for the greatest r-factor to help keep you warm. And the acoustical factor will help noise stay within the hunting blind. This also adds strength through the lamination process.
Extras
In our top-line product (Stalker), we include Ultra Stealth interior, rubber flooring, and leg brackets at each corner. We consider these items as standard in a ready-to-hunt blind.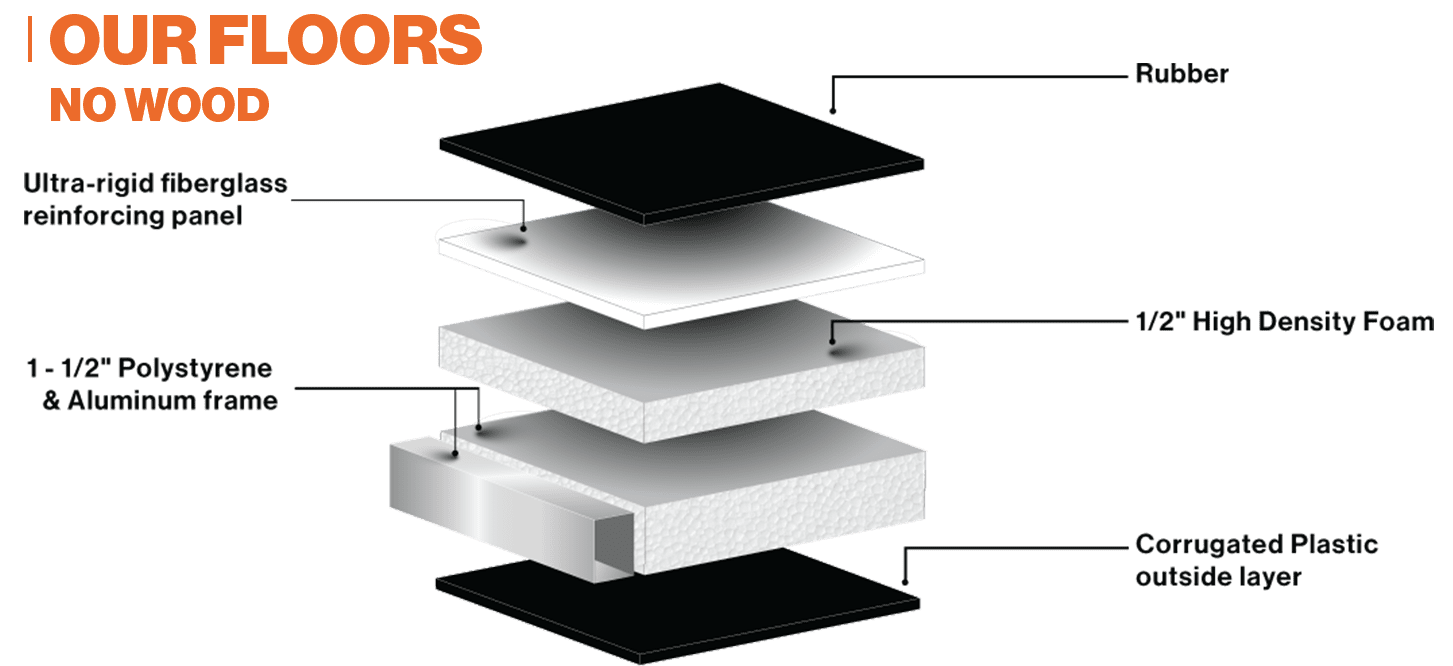 New - Hunting Blind Ski Kit
NEW FOR 2022 – You can now convert your Stalker hunting blind into an easy-to-move hunting blind OR set it up to use as an ice fishing skid house with the new Stalker Hunting Blind Ski Kit!
The hunting blind ski kit comes with two strong steel skis to pull your hunting blind through the woods or on the ice that are powder coated in black to match your blind. The skis include 3/8″ Hyfax to protect the ski from wear and tear and to make pulling easier. Simply attach the skis to your Stalker blind using the grade 8 bolts and nuts that are included with the ski kit.
The Ski kit is designed for the Stalker hunting blind exclusively,  it will not fit the Phantom. Catch Cover Holes sold separately.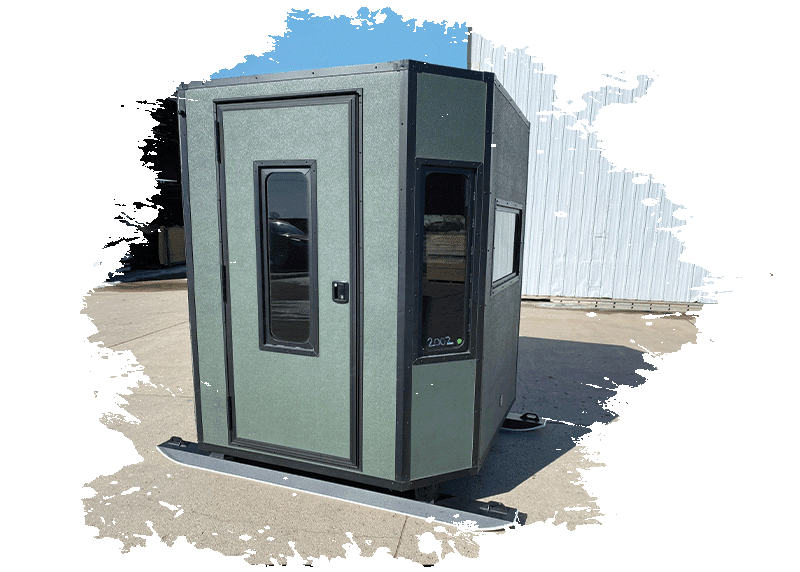 Design
When we started designing our hunting blinds, above all, we wanted to go with the octagon shape! Gives you a 360 degree view without blind spots. This also helped the blind blend in better than square blinds, removing the vertical lines and 90 degree corners.
While developing the design of the Stalker Series hunting blind, it was trial and error! When deciding what the most important feature was, it was making the blind quieter, warmer, and scent proof. The floor has a 1 1/2″ thick welded aluminum structure that has lamination. With additional materials and zero mechanical fasteners, this ensures that no noise will be made while moving around. This gives you a 2 1/4″ thick single piece floor that is, most importantly, well-made, silent, and secure.
In addition, the walls begin with welded aluminum studs and framed in windows. On the other hand, fiberglass exterior with EPS Styrofoam insulation and wood substrate laminate to form a single piece wall. This allows for warmer interiors and certainly provides better sound dampening and superior scent control.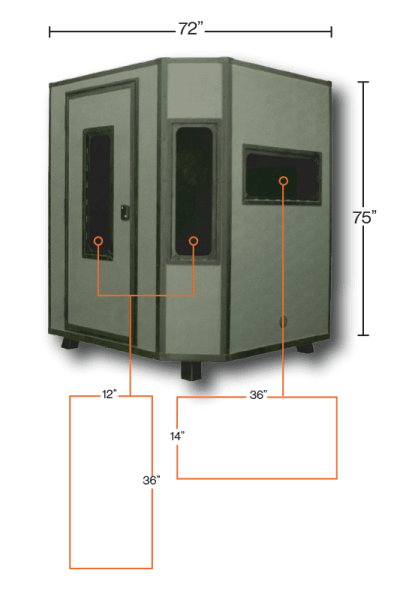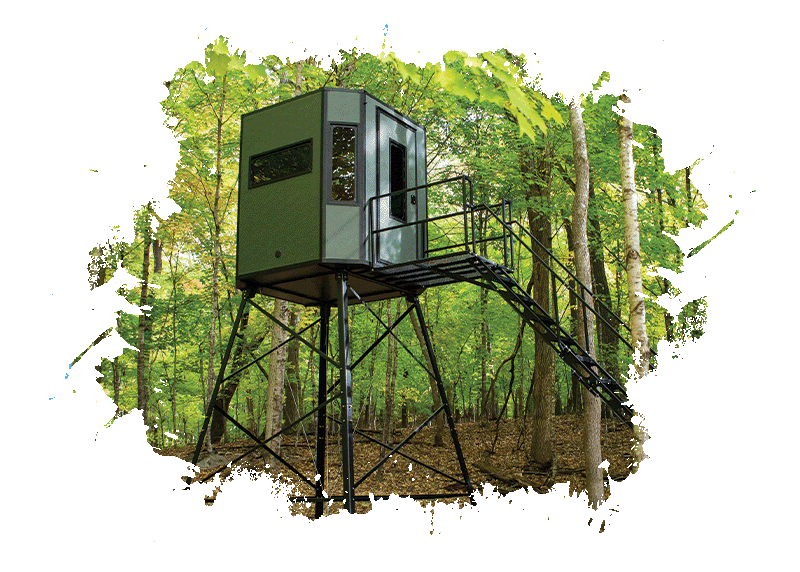 Longevity
Our hunting blinds are virtually maintenance-free! They can be easily cleaned thanks to the fiberglass exterior, rubber roof and glass windows.
All of our window and door openings use an automotive type weather seal. This seal remains flexible in even the coldest weather, helping our windows to always remain silent when opening or closing. When you close all the doors and properly latch the windows, the blind is virtually impenetrable by insects and rodents.
With all of the quality features listed above, you can rest assured that our blind will last a long time. Your Ambush Hunting Blind will certainly look and perform the same as the day you set it for generations to come!
See a Phantom Series Blind Today!
We have Ambush Dealers across the country that are happy to help you find the perfect blind(s) for your needs. Type in your address or zipcode below to see a list of Ambush Dealers near you.
Dale Maciver I love hunting with Ambush blinds. With sound deadening technology and plenty of room for your grandkids, they can make noise and not scare deer away. This is a great investment, and your grandkids will be able to hunt in the same Ambush blind yea...