What to Pack When Hunting
As great as our line of hunting blinds are, that's not the only thing you will ever need when out hunting. Don't let packing your hunting bag stress you out! To help, we've compiled a comprehensive list of what to pack when hunting.
1. Camouflage
To have a successful hunt, it's essential to blend in. That means camouflage clothing such as:
Jacket
Shirt or t-shirt
Pants
Face mask
Hunting overalls
Hat
However, there's a danger you might be invisible to other hunters. To prevent this dangerous situation, an orange vest should help you stand out. Certain hunting seasons require orange to be worn, but not all. If you are hunting late in the season, there are a few extra things you will want to pack to keep warm.
2. Binoculars & Rangefinders
Since you won't be moving around, it helps to enhance your vision. Pack a monocular or pair of binoculars depending on your eyesight. This allows you to see much further than the naked eye. As a result, it gives you advance notice and more time to prepare for the perfect shot as the animal approaches.
To help increase shot accuracy, a rifle scope should be a necessity. Increase your chances of a successful shot by including a rangefinder so you know exactly what height to hold your weapon at.
3. Water, Food, and Toiletries
Let's face it, you will be inside that hunting blind for hours. Make it bearable by including essentials such as food and water. This will give you the energy to endure and stay alert during the long periods spent looking out for game.
Create space inside your bag for toiletries such as toilet paper. You never know when a bathroom emergency might happen! AND, if it's one of those sunny days, you may want to pack your sunglasses.
4. Sprays
One essential item often overlooked is scent killer. Wild animals have an incredible sense of smell. They will run off at the first instance of an unfamiliar scent, which humans possess. A scent killer is an added way to help keep you odorless. Learn more about scent control here!
Speaking of sprays, bug spray would be a nice touch–just ensure it's odorless too.
5. Hunting Knife
Once you get a successful hit, you need to field dress the animal. And that's where the hunting knife comes in. There are many different options for knives on the market, but you'll want to make sure you have an incredibly sharp knife that can cut through bone.
6. Lights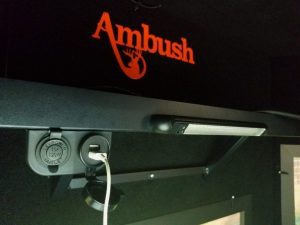 When walking into the woods early in the morning, or after sundown, it helps to have a small light to guide you out of the wilderness. A headlamp is preferable as it keeps your hands free during the walk. It is advisable to also pack a flashlight when hunting for tracking an animal after it's been shot. This can be brighter and larger than your headlamp and help you track that animal once the sun has set. Ambush also has a solar panel and light kits for the blinds.
7. Trail Camera
Trail cameras give you an extra set of eyes in your hunting area. Reviewing these photos helps you determine a schedule of sorts for those deer and allows you to pattern them. If you've got a target buck you've been watching on trail camera and you figure out his schedule and his patterns, you will choose which blind location you hunt from. Many trail cameras offer live texting of photos which gives you immediate information on the location of the animal.
Bottom Line
Hunting is a great way of getting an adrenaline rush, but not everyone knows what to pack when hunting. Other than toiletries, massively improve your chances of securing a successful hunt by packing some of the items listed above. Oh, and don't forget the snacks!
Head over to Ambush's website and pick your choice of hard-sided hunting blinds and accessories.
Interested in what to pack for ice fishing? Check out this blog post!